Commercial refrigeration systems endure plenty of wear and tear throughout the year. The holiday season, however, can put an even greater strain on your walk-in coolers, freezers, and other vital equipment.
From storing seasonal turkeys to stocking holiday brews, businesses rely on refrigeration systems to safely store foods and beverages. To protect valuable inventory and systems, businesses across Ocala, The Villages, and North Central Florida trust United Refrigeration, Heating and Air for preventative maintenance, full-service repairs, and new installations.
Preventative Maintenance and Rapid Repairs
United's technicians offer prompt service to keep restaurants, kitchen facilities, stores, and other businesses up and running. Our team understands the importance of limiting downtime, which is why preventative maintenance is highly recommended to mitigate risks.
During the busy holidays, for example, businesses may find their walk-in cooler doors getting extra wear and tear. Maintenance check-ups for door hardware and gaskets, as well as cleaning of condenser coils and other components, could help you avoid problems before they start. In addition to coolers and freezers, United provides cleaning, maintenance, and repairs for ice machines, soft serve machines, slush machines, and other refrigeration systems.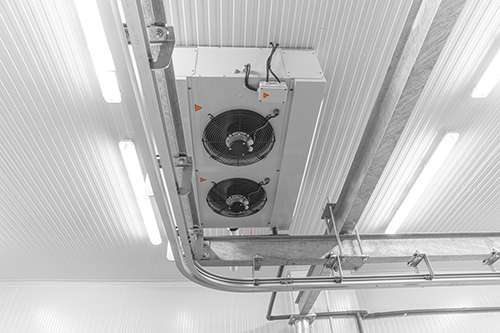 When to Repair or Replace Refrigeration Systems
No one wants to experience a breakdown during the holidays, which is why a scheduled replacement could be key to surviving the season. The first step is scheduling a professional inspection to evaluate the current condition and determine if a repair or replacement is more cost effective for your business. Consider these reasons for replacing refrigeration systems:
Lower Electricity Costs: Old and inefficient refrigeration systems could be overrunning and wasting energy, which increases your electric bills. If your unit is 15+ years old or no longer effective, it may be time to upgrade.
Avoid Repair Costs: If the frequency of system repairs goes beyond the standard of preventative maintenance, a replacement could be more affordable in the long run. United's experts can offer honest advice when you are weighing your costs and options.
Prevent Losses: Tis the season to talk with a technician if you are hearing loud sounds, smelling odors, or noticing fluctuating temperatures. A conveniently scheduled installation will save you from an untimely breakdown and will prevent inventory losses.
United's on-call technicians are prepared to help you make the right decisions in maintaining, repairing, or installing new systems. Ask us about how a new system warranty on your installation could help you save time and money.
For over 30 years, our Florida customers have relied on us for their refrigeration, heating, and air conditioning needs. Call United Refrigeration, Heating and Air at 352-629-1187 to set your next installation, system maintenance, or emergency repair service.